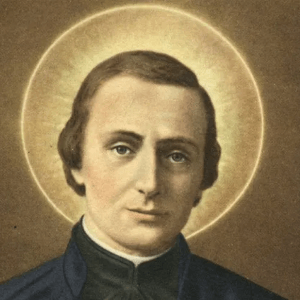 Saint Peter Chanel was a Catholic priest, missionary, and martyr. He was a member of the Society of Mary (the Marists) and was sent as a missionary to Oceania where he was clubbed to death.
Read the full St Peter Chanel novena on the novena page. You can also learn more about novenas here.
Why is St. Peter Chanel important in the history of the Catholic Church?
Pierre Louis Marie Chanel was born on July 12th, 1803 in La Potière near Montrevel-en-Bresse, Ain département, France, in the diocese of Belley.
Even when he was young, he showed a keen intellect and deep piety, and Fr Trompier, his priest, took notice of him and educated him.
He studied and was ordained to the diocesan priesthood, and his first assignment was a poor country parish. His faith and devotion drew the faithful in the area back to the practice of their faith, but he longed to be a missionary, and in 1831 he joined the Marists.
But for five years the Marists had him teach in France, which St Peter endured with fortitude. In 1836, the Marists were given the mission to evangelize in the Pacific, and St Peter was made Superior of a small group of his fellow religious and lay people.
After the long and dangerous journey, St Peter arrived at the Island of Futuna and met with their King Niuliki, who was at first kindly disposed toward them.
But after the Marists learned the native's languages and the people began flocking to them, the King became jealous, fearful that the Catholic Faith would force him to abandon various pagan practices and rituals that he was the leader of.
Three years into St Peter's work, the King's son desired to become Catholic and be baptized, and upon learning this the King summoned his warriors and directed them to assault the missionaries.
On April 28th, 1841, the warriors attacked St Peter, clubbing him to death.
But the blood of the martyrs is the seed of the Church, and within five months God's grace converted the entire people to the Catholic Faith.