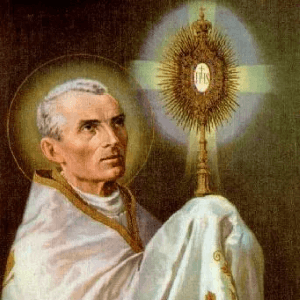 St Peter Julian Eymard was a French Catholic priest who founded two religious communities: the Congregation of the Blessed Sacrament for men and the Servants of the Blessed Sacrament for women. He is known for his devotion to Christ in the Eucharist.
Read the full St Peter Julian novena on the novena page. You can also learn more about novenas here.
Who Was St Peter Julian Eymard?
Peter Julian was born in 1811 in La Mure, Isere (French Alps).
From early on in his life, Peter Julian was devoted to Our Lady, making pilgrimages throughout France to shrines dedicated to Mary.
In 1829 he became a novice, against his father's wishes, with the Oblates of Mary Immaculate. But hit time there was short-lived due to a serious illness.
Peter Julian suffered from migraines and lung problems throughout his life.
In 1831, he was admitted into the seminary of the Diocese of Grenoble and ordained a priest for the diocese in 1834.
He spent time as a parish priest at the ppor village of Monteynard and re-evangelized the impoverished people there, but he felt called to religious life again and so joined the Marist community.
As a Marist, he promoted the 40 Hours of adoration devotion to Christ in the Blessed Sacrament, as well as devotion to Our Lady.
As he travelled around France, he grew in desire to see Christ adored in adoration, including perpetual adoration, and wanted to devote his entire priesthood to this goal.
But the Marist superiors thought that this charism fell too far outside their Marist one, so St Peter Julian established a new religious community, with the help of Fr Raymond de Cuers.
This community became the Congregation of the Blessed Sacrament, and it was given permission to hold public exposition of the Blessed Sacrament.
St Peter Julian Eymard died on August 1st, 1868, after suffering from a brain hemorrhage.
Pope St John Paul II called St Peter Julian Eymard "the Apostle of the Eucharist."
He was beatified on July 12th, 1925 by Pope Pius XI. He was canonized on December 9th, 1962 by Pope John XXIII.