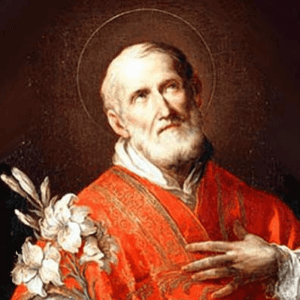 St Philip Neri was a Catholic missionary and founder of the Congregation of the Oratory, which includes priests and brothers. His good humor and cheerfulness won over thousands and re-evangelized Rome.
Read the full St Philip Neri novena on the novena page. You can also learn more about novenas here.
Who Was Saint Philip Neri?
St Philip Neri was a Catholic missionary and founder of the Congregation of the Oratory, which includes priests and brothers.
Philip was born in Florence on July 21st, 1515.
Philip was a model child, faithful and good-natured.
The Dominicans in Florence at San Marco taught him.
When he was 18, Philip went to San Germano to stay with a wealthy family and become part of their successful business.
But God gave Philip a vision that He wanted him to give his life for Christ and His Church and eschew fortune.
Philip declined becoming part of the business and instead left for Rome, where he became a tutor.
At age 20, Philip embarked upon the study of theology and philosophy at the Sapienza and at St. Augustine's monastery.
While he was an excellent student, after three years had passed, Philip decided not to move forward toward the priesthood at this time, and he began serving the poor and evangelizing the Roman people, who had largely stopped practicing their faith.
He went around the city, speaking in public places and engaging people in conversation. Philip's cheerful manner and winsome personality drew many in to listen to him.
In 1544, at Pentecost, Philip was given another vision, one of a flaming globe.
Mystical fire entered his mouth, and Philip felt his heart palpitate.
This experience was God pouring into Philip His divine love.
A few years later, Philip founded the Confraternity of the Most Holy Trinity to help lay Catholics grow in their faith and serve the needy.
Under the guidance of his spiritual director, Philip pursued the priesthood and was ordained on May 23rd, 1551.
Philip devoted himself to the confessional, spending countless hours hearing pentitents' confessions.
Priests and lay people flocked to Philip to pray and work with him, and these people became known as Oratorians.
This Oratory became formally known as the Congregation of the Priests of the Oratory
Philip's rule was just to share a table together and practice the spiritual exercises.
The Congregation was approved by Pope Gregory XIII in the year 1575.
Philip's reputation for friendly holiness grew. He advised kings and popes but also continued his dedicated service to the poor and lowly.
Recall that this was the time of the Protestant Revolt, and so Philip had become a shining symbol of the Catholic Counter Reformation.
On May 26th, 1595, Philip died. He was 80 years old.
St Philip Neri was beatified by Pope Paul V on May 11th, 1615. He was canonized by Pope Gregory XV on March 12th, 1622.
He is the patron saint of Rome, the U.S. Special Forces, humor and joy, the Philippines, comedians, artists, and writers, and his feast day is celebrated on May 26th.