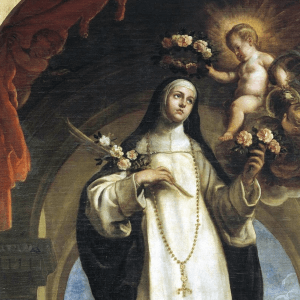 St Rose of Lima was a Third Order Dominican renowned for her piety and chastity. She eschewed the fame and fortune of a worldly life, denied herself, and served the poor and needy.
Read the full St Rose of Lima novena on the novena page. You can also learn more about novenas here.
Who Was Saint Rose of Lima?
St Rose of Lima was born Isabel Flores de Oliva on April 20th, 1586 in Lima Peru, to Spanish colonists.
St Rose was so lovely that she was given the nickname Rose and it stuck with her, being made official after she received Confirmation.
Even as a child, Rose was devout and wanted to become a nun.
She denied herself from an early age through voluntary penances. She went to Adoration daily and received Communion at daily Mass as well.
When she came of age, young men wanted to court her. She was not interested. So she rubbed her face with pepper and gave herself a terrible haircut to mar her appearance.
Her parents wanted her to marry and opposed her desire to become a nun. Ultimately, her father relented and realized his daughter had an indomitable will that was dedicated to serving Christ alone.
At age twenty, she became a Third Order Dominican. She took on even greater penances, including a silver crown that pierced her head, to remember Christ's Crown of Thorns.
St Rose of Lima died at the early age of 31, on August 25th, 1617.
Pope Clement IX beatified her in 1667. Pope Clement X canonized her in 1671.
She was the first person born in the Americas to be canonized.
Her feast day is August 23 but in Peru it is August 30th.