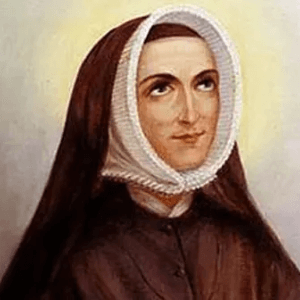 St Rose Philippine Duchesne was a French nun of the Society of the Sacred Heart. She founded the congregation's first communities in the United States and taught the people of the western frontier.
Read the full St Rose Philippine Duchesne novena on the novena page. You can also learn more about novenas here.
Who Was Saint Rose Philippine Duchesne?
Rose Philippine Duchesne was born in Grenoble, France, in 1769.
She joined the Society of the Sacred Heart and became an exemplary nun.
At age 49, her congregation sent her to the U.S. to the western frontier in the midwest.
She began teaching pioneers in St Louis, and later in life started a school for Native Americans.
Rose contracted smallpox as a child but survived it with mild scars.
She wanted to enter the Visitation of Holy Mary religious community, but shortly after doing so the diabolical French Revolutionaries in 1792 closed the convent.
Once Napoleon rose to power, Rose wanted to return to the Visitation community, but the physical buildings of the community were in shambles, destroyed by the French Revolutionaries, and the elderly nuns did not have the strength to rebuild.
At this same time, Madeleine-Sophie Barat founded the new Society of the Sacred Heart in northern France.
Barat met with Rose and established a new foundation for the community, whose mission overlapped with that of the Visitation. Eventually Rose would expand the community into Paris as well.
The Bishop of Louisiana and the Two Floridas in 1817 met with Rose in Paris, hoping that she would be willing to come to the U.S. and teach the Native American and French children there.
Barat gave her approval for Rose and four nuns to go to the U.S., but when Rose arrived there, the bishop had not prepared a place for them to stay and live.
So they traveled to St Louis, and then St Charles, which at that time was on the frontier of the west.
Rose's adventures were not over though. She and her nuns were invited in 1841 by Jesuit priests to come to Kansas and serve the Potawatomi tribe.
(She was inspired by Fr De Smet, the great Jesuit pioneering priest who had blazed a trail through the American West. This same priest was who the town in Lauren Ingalls Wilder's book Little Town on the Prairie was named after.)
Rose only lived there a year before poor health required her to return to St Charles, where she spent the last decade of her life living humbly, poor, and somewhat alone.
She died in November 18th, 1852. She was 83 years old.
Duchesne was beatified on May 12, 1940 by Pope Pius XII. St Rose Philippine Duchesne was canonized on July 3rd, 1988, by Pope John Paul II.