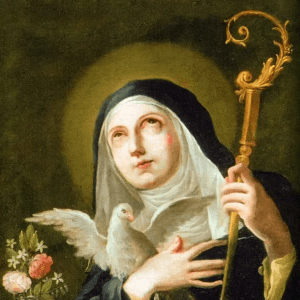 St Scholastica was the twin sister of St Benedict and the foundress of the Benedictine nuns. She was born in Italy and lived in the fifth and sixth centuries.
Read the full St Scholastica novena on the novena page. You can also learn more about novenas here.
What Was St. Scholastica Known For?
St. Scholastica, sister of St. Benedict, was born in 480 AD in Umbria, Italy, and from early in her life gave her life to God.
St Benedict founded a monastery of monks in Monte Cassino, and St Scholastica likewise founded an order of nuns not far away.
What Miracle Did St Scholastica Do?
Once per year they met together and conferred on the spiritual life, religious life in community, and in one famous encounter, she asked her brother to remain an extra day, but he refused.
Undeterred, St Scholastica prayed, and God sent a terrible storm that prevented St Benedict from leaving! God worked a miracle through St Scholastica's intercession.
Three days later, St Scholastica died, and St Benedict saw a vision of her soul ascending to Heaven.
St Benedict died soon after, and they were buried close together.