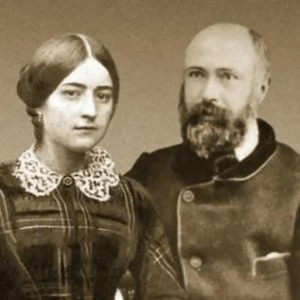 Saints Louis and Zelie Martin were a French Catholic couple and the parents of five nuns, including St Thérèse of Lisieux. Sts Louis and Zelie were the first married couple canonized together.
Read the full Saints Louis and Zelie Martin novena on the novena page. You can also learn more about novenas here.
What Is Louis and Zelie Martin the Patron Saint Of?
Saints Louis and Zelie Martin are the patron saints of illness, mental illness, marriage, parenting, and widowers.
St Louis Martin, born Louis Joseph Aloys Stanislaus Martin, was the third of five children, but his siblings all died before reaching the age of 30.
Louis wanted to enter religious life in the Augustinian Great St. Bernard Monastery, but they rejected his application due to his failure to learn Latin.
Disappointed but undaunted, Louis trained as a watchmaker instead.
St Zelie, born Azélie-Marie Guérin, was born in Gandelain, near Saint-Denis-sur-Sarthon, Orne, France.
She was the second daughter, and her older sister, Marie-Louise, became a Visitandine nun.
Like Louis, Zélie wanted to enter religious life. But also like her future husband, her application was rejected by the Sisters of Charity of Saint Vincent de Paul due to her health issues (respiratory illnesses and frequent headaches).
Instead, she asked our Lord for the grace of having many children, including ones who would enter religious life.
Zelie did not find Louis right away though, so she needed to find an income, and she chose to become a lacemaker, making the famous Alençon lace.
In 1858, she met Louis, and three months later they were married on July 13th, 1858.
Zelie's lace-making enterprise was a hit, and 12 years later in 1870, Louis quit watchmaking and joined her endeavor instead.
Louis and Zelie lived for almost a year in marriage before consummating it at the direction of their spiritual director.
They conceived nine children in total, but only five daughters survived past infancy or early childhood:
Marie Louise (22 February 1860 – 19 January 1940), who became Sister Marie of the Sacred Heart, Carmelite at Lisieux.
Marie Pauline (7 September 1861 – 28 July 1951), who became Mother Agnès of Jesus, Carmelite at Lisieux.
Marie Léonie (3 June 1863 – 16 June 1941), who became Sister Françoise-Thérèse, Visitandine at Caen; named a Servant of God.
Marie Hélène (3 October 1864 – 22 February 1870). Joseph Louis (20 September 1866 – 14 February 1867). Joseph Jean-Baptiste (19 December 1867 – 24 August 1868).
Marie Céline (28 April 1869 – 25 February 1959), who became Sister Geneviève of the most Holy Face, Carmelite at Lisieux.
Marie Mélanie-Thérèse (16 August 1870 – 8 October 1870).
Marie Françoise-Thérèse (2 January 1873 – 30 September 1897), who became Sister Thérèse of the Child Jesus and of the Holy Face, Carmelite at Lisieux, the most well-known of all their daughters, aka the Little Flower and now a great saint.
The Martins were a faithful and holy family, practicing the Catholic Faith with great piety and reverence.
Their family life centered on Christ and His Church, and they practiced wonderful charity with each other and in their town.
Tragically, Zélie got breast cancer and died of it on August 28th, 1877 in Alençon, at age 45. St Therese was just 4 years old at the time.
Louis sold the lacemaking business and moved the family to Lisieux in Normandy, to be close to Zélie's brother Isidore Guérin, who had a wife and two daughters.
After their mother's death, Marie (Louise), Pauline, Thérèse (Françoise-Thérèse), and Céline all became nuns at the local Carmel in Lisieux.
Léonie first became a Poor Clare but then left that community and finally became a Visitandine nun.
Most of his daughters were now in religious life, including St Therese at a very young age, but in 1889 Louis had two strokes that partially paralyzed him, followed by cerebral arteriosclerosis.
His condition led to vascular encephalopathy, and in his later years he showed signs of mental illness caused by the disease.
He was cared for in a hospital for three years, before returning home in the last few years of his life by two of his daughters.
Saints Louis and Zélie were declared Venerable on March 26th, 1994 by Pope John Paul II.
Saints Louis and Zélie were beatified on October 19th, 2008 by Pope Benedict XVI.
Saints Louis and Zélie were canonized on October 18th, 2015 by Pope Francis.