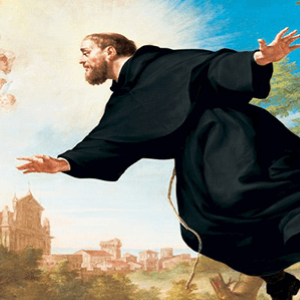 St Joseph of Cupertino was an Italian Franciscan friar to whom God gave miraculous levitations and visions. He had a hard time learning and was considered mentally slow and absent-minded, but his simple and virtuous life won over all.
Read the full St Joseph Cupertino novena on the novena page. You can also learn more about novenas here.
Who Was Saint Joseph of Cupertino?
Joseph was born on June 17th, 1603 in Cupertino in what then was the Kingdom of Naples (present day Lecce, an Italian Province).
His father died before Joseph was born, leaving great debts that caused his family to have to sell their house. Because of this unfortunate circumstance, he was born in a stable.
God gave Joseph miraculous visions as a child, and these visions continued throughout his life.
He became the apprentice to a shoemaker, but he longed for religious life. At age 17, he applied to the Conventual Franciscans, but they rejected him since he had no education.
He tried the Capuchin Franciscans next, and they accepted him as a lay brother. But after his miraculous visions and absentmindedness continued, they dismissed him from the community since his duties were negatively affected.
Joseph went back to his family in shame, but his desire to be a religious persisted.
He begged the Conventual friars to admit him, even to the lowest job of mucking out the stables.
They agreed, and his holy and virtuous way of life won over the friars. They admitted him to their Order, and over great odds due to lack of intelligence, he was ordained a priest in 1628.
St Joseph took on many voluntary penances, and he was consecrated to the Blessed Virgin Mary. He spread devotion to Our Lady wherever he went.
St Joseph became so well-known for the miracles wrought by God through him, that the Franciscans kept him cloistered from the public.
God gave St Joseph of Cupertino the gift of levitation. At Holy Mass his fellow friars saw him float in ecstasy up into the air
He died on September 18th, 1663.
He was beatified by Pope Benedict XIV in 1753 and canonized by Pope Clement XIII in 1767.
St Joseph Cupertino is the patron saint of Aviators, Flying, Studying, and those suffering mental handicaps.